Wendell Nope Police Diving Pages
Counter-Terrorism Diving
Police Diving Pages - Main Page - Sign My Guestbook - Email Me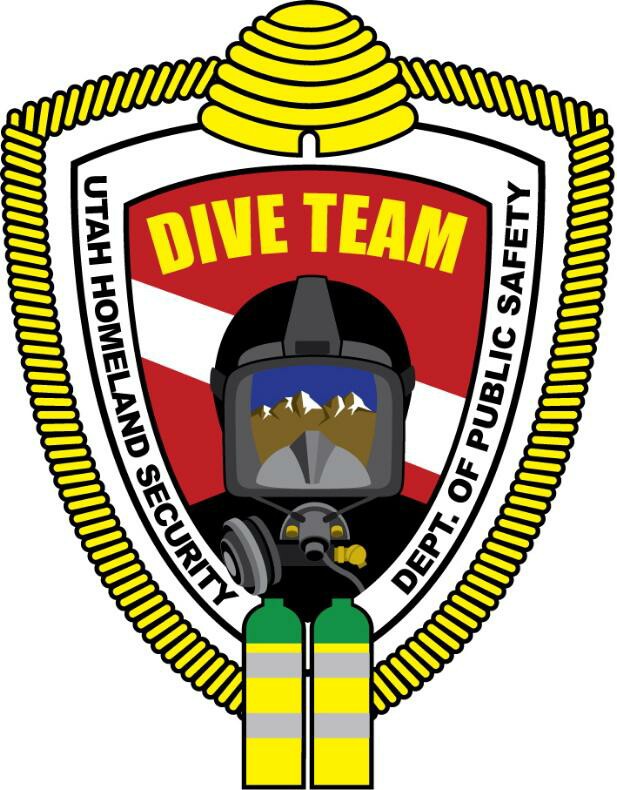 The Utah Department of Public Safety Dive Team was created as a Counter-Terrorism Unit. Information related to this function can only be presented in a watered-down fashion on this web site. Nonetheless, the following photos and descriptions offer a degree of interesting reading. All photographs shown here are from training exercises.
| | |
| --- | --- |
| | These photos represent a special type of water entry called "Helocasting" wherein the divers are flown to a body of water and then are inserted via disembarking from the airship. Helocasting was created by the military but has been adopted by law enforcement for special operations. In the case of a "Hasty Deployment" the divers could be flown to the site and immediately deployed. In Utah, Helocasting is employed for similar operations. Additionally, Utah has high-altitude inaccessible lakes where there is nothing more than a hiking path to access the site. When such lakes need to be searched or audited, the DPS Dive Team is similarly deployed via helicopter. Click on the following links to see the entire 16 minute video produced during the training exercises. The large file may take some time to load, but it is worth it! Large File (177MB) Small File (69MB) |
| | This photo represents a failed simulated attempt of a terrorist diver to place a WMD on an underwater infrastructure. The photo shows that the diver got himself entangled in the rope used to facilitate transport and ran out of air while struggling to get free. In an exercise of this type, the investigation of the incident takes on a special nature. Click on the following link to see the initial video intelligence gathered on the device and the terrorist during the training exercise. WMD Video |
| | This photo shows a training aid used to simulate a chemical weapons assault on a body of potable water. The US Military has assigned a Chem/Bio Expert to the DPS Dive Team to provide training and operational guidance in the event such an attempt is made. |
| | This photo represents another training aid used to simulate an Improvised Explosive Device which might be directed against some form of underwater infrastructure. Two ex-military Bomb Technicians have been assigned to the DPS Dive Team to provide training and operational guidance in the event such an attempt is made. Watch the following video as the student diver gathers video intelligence for the surface personnel. Homemade Mine WMD |
| | This photo represents another training aid used to simulate an Improvised explosive Device which might be directed against a vessel or underwater infrastructure. This suspended apparatus aids the DPS Divers in photography, videography, and buoyancy skills. |
| | This is an actual photo of debris from an actual underwater Improvised Explosive Device which was detonated. These items did not vaporize in the blast and were able to be photographed and collected in the process of identifiying the device's characteristics. Extreme buoyancy and photography skills are necessary to acquire close-up photos of small pieces of evidence such as this. The following video segment represents an underwater investigation of a simulated suicide bomber who used a bomb-loaded watercraft against an infrastructure (dam, etc.). Suicide Bomber |
| | This 55-gallon drum was submerged deep on a dam face during a massive terrorism training event that involved over 100 law enforcment and military personnel. DPS Divers carefully approached the device and gathered intelligence that allowed Bomb Technicians on the surface to identify it and respond appropriately. This is a still-capture taken from the video evidence gathered. The following video segment represents a synopsis of the exercise. Flaming Gorge WMD |
| | This is part two of the above photo which shows the data provided to the diver for enabling the WMD. He never got the chance to initiate the count-down mechanism as his entanglement prevented him from completing his mission. Superior buoyancy, photography, and videography skills are critical in an event such as this. |
Police Diving Pages - Main Page - Sign My Guestbook